The last autumn leaves are falling. Temperatures are dropping. And the holidays are quickly approaching. This time of year is one filled with celebrations and joy. Many businesses take the time to revamp their storefronts to match the holiday spirit. Your store should also be decorating for the holidays. But, are you taking advantage of the holidays to increase foot traffic into your store? Here are some tips and ideas to give your store a holiday makeover while attracting customers.
Why is decorating your store for the holidays important?
In 2016, a survey was conducted that revealed that 4 in 10 US shoppers would wait for holiday sales to buy items for themselves or their households. In 2018, US shoppers spent $794 on average for holiday gifts. You will be running holiday sales but you want to make sure that most of these shoppers are buying from your store and not your competitors. Just how do you do that? Differentiate your store with holiday decorations both inside and out. Decorating your store during the holidays will give the best chance to attract customers who are running around doing gift shopping. The festive atmosphere of your store will invite people and families to shop for any of their holiday needs. Give your customers a unique shopping experience with the festive decorations. Don't miss out on potential customers by not decorating your store.
Planning for the holidays
The holidays are a time of year that comes with a whirlwind of things to do. You may have so many things that need to be done and very little time to do them. Don't stress. Take the time to plan out what all of your to-do's before the holiday rush. You can give yourself as much time as you need by planning out your goals, sales, and store design in advance. We recommend starting to plan decorating your store for the holidays in early fall. Try thinking about the holiday season in stages such as November, December pre-holiday, and post-holiday. Having that in mind will give you a leg up on the competition to make the biggest splash this holiday season.
Colors and themes
As with any other holiday, there are specific colors and themes related to the holidays. Red is the typical color choice for the holidays but you can pair it with many other colors to give you store vibrancy. Whatever you choose, just keep it consistent throughout your designs. You can use festive designs like Christmas trees, snow, snowflakes, snowmen, reindeer and presents to give your designs more festive touch. You want to create truly engaging images that appeal to your customers emotionally. Try incorporating the festive design and colors on your sale promotional materials and store design. Use these designs on signage with lighting which can really take your store to another level.
Signage
Signs and posters are a great way to showcase your festive designs and sales. Signs are crucial in attracting more people from the cold into your toasty holiday-decorated store. They can be used for decorating both the inside and outside of the store during the holidays. Here are some ideas for your designs.
Outside the store
Vinyl Banners are one common form of signage for you to use. They can be custom printed to display any full-color design you want and can be hung either outside your store or by the entrance to ensure your customers know about your holiday sale.
Window displays are another great way to both spread the holiday joy and inform customers of any seasonal deals. Having them on your windows will attract customers to come into your store. You can get them in any shape and size you need. The window displays are UV safe so your festive designs will stay colorful and not fade. Also, they are great since they install easily and are temporary.
Inside the store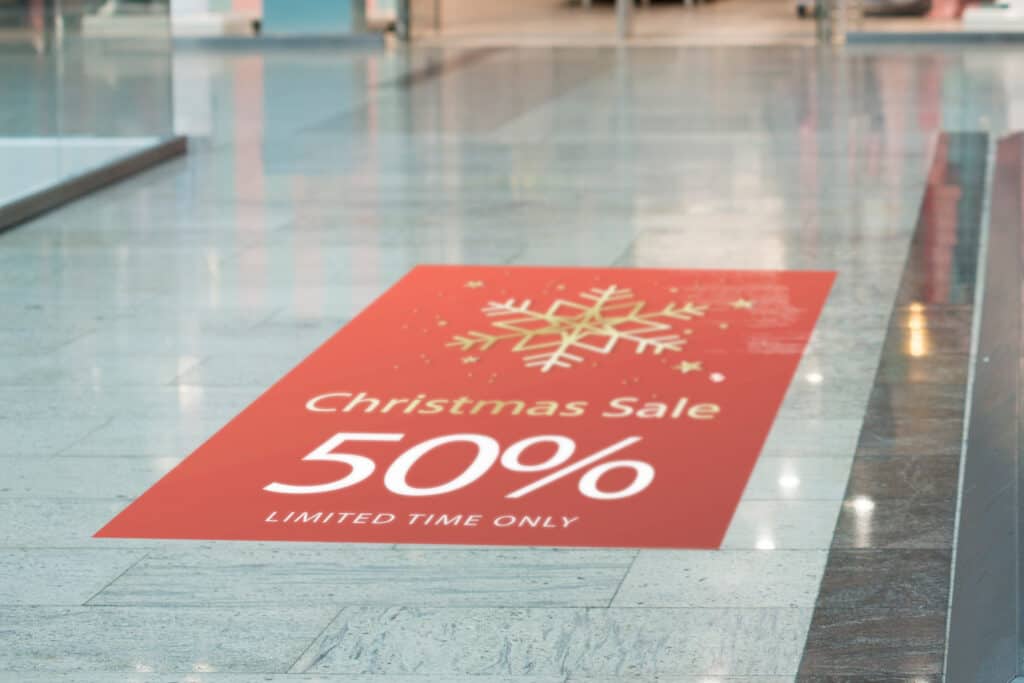 Once inside the store, you can continue engaging your customers with more holiday-themed displays. Floor graphics are another great way to utilize your sales floor to engage the customers. They are similar to Window displays being easy to install and temporary but stick to any flat surface. This way, your festive designs can be everywhere within the store. Truly giving customers a truly festive experience. Floor graphics as non-slip, waterproof and UV safe so they can survive the holiday rush.
Another great type of signage to use are retractable banners. They are free-standing and small enough to save on crucial floor space. Retractable banners are sleek and are available in any size you need. They can be small enough to be placed on the counter next to your cash register or large enough to be hung by windows and the store entrance. The possibilities are endless.
Lighting
Lighting plays a big role in your store, especially around the holidays. You can also decorate your store with Christmas lights to give even more holiday flair. They come in various colors to match your store's theme. Hang them around the windows and the sales counter. If you have a dimmer, try dimming the lights slightly to make the Christmas lights pop even more. This will give your store a more inviting and homely atmosphere for your customers.
Backlit pop up displays can also bring some holiday spirit to your store. They are free-standing displays that use LED lights to make your festive designs shine. They come in various sizes and can be paired with other festive decorations to make your storefront truly unique.
Final thoughts
Decorating a store is very similar to decorating your own home for the holidays. The warmer the atmosphere you have in your store, the more comfortable your customer is. Give your customers extra joy by showing off your store's holiday spirit. The better holiday experience you give your customers, the more it will drive sales. Try using all of these ideas together to make your store stand out from the crowd. Just remember to have fun with decorating.

At Printleaf, we work with companies of all shapes and sizes with custom printing. Are you looking to spruce up your store for the Holidays? Come visit us at our Midtown location. For more information about our products and services, please visit our website or call us at (212) 328-1174.
festive holiday Holiday Decorating Retail Graphics Retractable Banners
Last modified: November 27, 2019