If you're a business owner, you probably understand just how important brochures are for advertising your business. And if not, then you're missing out on a valuable marketing outlet! Custom brochures are a potential way to get someone interested in the services you can provide and are very inexpensive! If you don't have the budget for larger format marketing such as billboards or you want to target your physical marketing to have a more personal effect, brochures are the way to go!
Picking out a brochure seem simple at first, but there are actually many factors that you must consider before printing one out. You have to make sure everything about the design is great and something that readers will want to pick up. Factors that you need to think about when designing your brochure are the images you will use, fonts, content, the number of your brochures, and most importantly, the different kinds of brochure folds that are available.
Also, always keep in mind your target audience. Are they baby boomers? Where do they go during their free time? How do they respond to the kind of services that you provide? All these questions are crucial in designing not just your brochure, but everything there is to your marketing campaigns, whether they're physical or digital.
Who Do You Want Reading Your Brochure?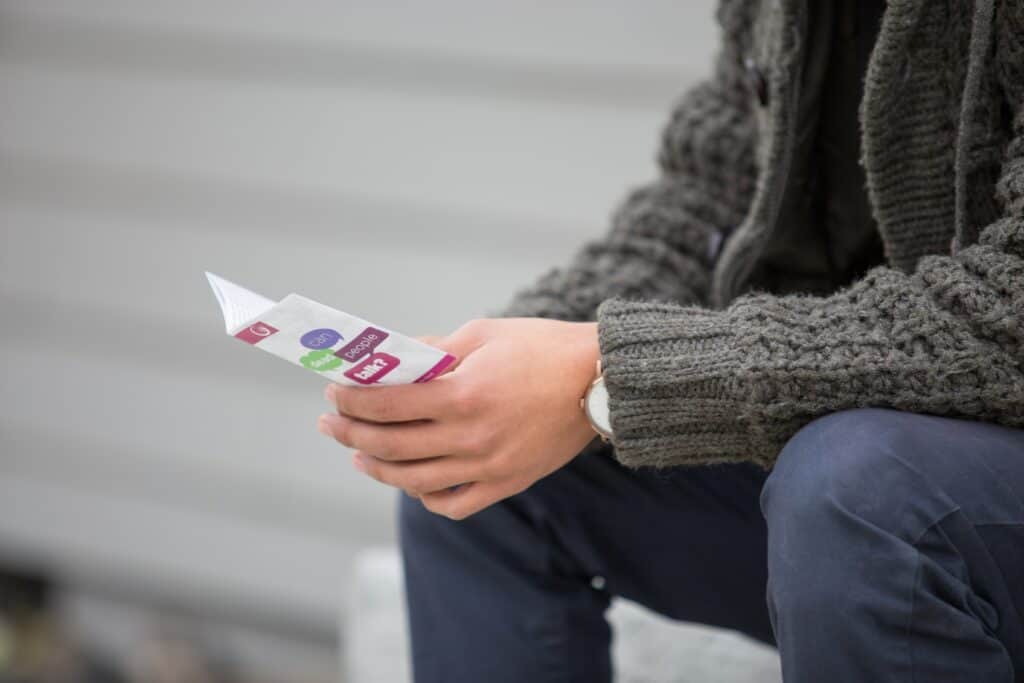 First, how do you know if someone will want to read the brochure that you want to produce? Brochures are still effective in getting more exposure for a business, but what if no one looks at your brochure?
Online marketers need to optimize their websites so they appear on search engines, social media, and other online platforms, otherwise, their conversion rate will suffer.
Physical marketing has the same problem. You want to create a design that people want to look at and that will be displayed at the right place at the right time.
For example, let's say you sell clothing. If your target demographic is millennials, you can design a modern brochure to catch their attention. A brochure cover with a young model in your attire can catch some people's attention, and ultimately lead to them picking up the brochure. Use stylish fonts and complementary colors to maximize the effects that the visuals will have on your customers.
Where to Give Out the Brochure?
After completing the brochure design, you have to figure out where to distribute them. If your business is located in a shopping mall, you can hand out brochures at the mall with a map of how to get to the store from that point in the mall! Locations will vary from business to business, but you'll want to distribute the brochures in a place relevant to yours.
When to Give Out the Brochure?
Advertising to your target market isn't always effective throughout the entire day. If your target market is millennials but you're targeting everyone in the mall the same way you're targeting millennials, that might do the opposite of driving people to your business and can be a big waste of time. Advertise during the time you see the most people in your target market present at the location that you're promoting your business! If you're aiming towards high school and college students, try giving your brochures to passerby's at the mall after school ends or during the middle of the day. Experiment at different times to see what produces the best outcome!
Quantity Determines Offset or Digital Printing
After finding out the average number of brochures you distribute for a period of time (a week, month, etc.), order or print a quantity of brochures that slightly exceed that number! If you're giving out many brochures during that time, it's best to have the brochures made using offset printing. For smaller quantities, digital printing will fit the bill.
Don't panic if you've never heard of digital or offset printing before, it's completely normal. Printing a small number of a file usually requires digital printing so that it can come out nicely. Think about regular print jobs. That's usually done using digital printing.
Offset printing is what larger print jobs require. If you're at the point where you give out over five hundred brochures to passerby's, offset printing is what you should be looking into, rather than multiple digital printing jobs.
There are many reasons why. One is because it's a much less expensive option. Because offset printing is about mass production, it slightly reduces the quality of the printing but is able to process higher quantities. The higher quantity without losing much quality is the reason why offset printing is so effective in bulk.
Different Brochure Folds
There are many types of brochures, that have unique forms and folds. If you haven't already checked out our article about brochure design ideas, we cover many ways that you can use a brochure to get people's attention.
The traditional brochure is tri-fold, meaning it has two folds to create a total of three panels for the brochure. However, there are many different kinds of brochures out there, and sometimes you don't have the right content for a tri-fold brochure–maybe you need less room or more room to include all your content. Explore the different ways you can deliver your material through the brochure with various folding options!
Z-Fold Brochures
Z-fold brochures are similar to tri-fold brochures as they also have two folds. However, when you open it up, the brochure resembles a z-shape, rather than a regular brochure that opens up similarly to a book. A z-fold brochure is sure to give your reader a pleasant surprise!
Accordion Fold Brochures
An accordion fold brochure has three folds instead of two, giving it five panels altogether when you open them up on each side. The fun part about accordion folds is that like their name, they resemble an accordion! This is a great kind of brochure to use if you want to promote something fun, such as a pop-up event, a park, or a show.
Roll Fold Brochures
Roll fold brochures have three folds just like an accordion fold brochure, but instead of all the panels being exposed when you open it up, it is layered with the other folds. This kind of brochure can lead to a unique brochure, as it has the ability to literally make events unfold, perfect for a story-like brochure theme.
At Printleaf, we work with professionals in New York City. Our mission is to provide the highest quality brochure printing. Looking to advertise a business using brochures in NYC? Come visit us in Midtown. For more information about the services we offer, please visit our website or contact us at (212) 328-1174.
Brochure brochure design brochure printing Design how to Marketing
Last modified: September 23, 2019