Maybe you have a picture that you'll cherish for the rest of your life. It can be your cuddly, outgoing pet. Or from your favorite moment from your last vacation. Whatever it is, wouldn't you want to be reminded of that picture wherever you go? A photo print is exactly what you're looking for. They're pictures printed directly on a strong material to make that picture come to life and stay strong when displayed so they don't need a frame.
A photo print can be used for personal or for business purposes. A business owner can hang a photo of the founders of the company to give the office a vintage look. Another great application for photo prints is showing satisfied customers on your wall.
If you own a wedding planning or wedding dress business, you can have pictures of happy couples during their weddings. It makes customers feel more excited about buying their dresses or planning the wedding, which can only help your business. You get the idea.
Whatever the picture is, you want to have an endearing element to the room you want to put it in. This can be relaxing for you and your guests if you use it for personal use. If it's for business, it can make your customers, clients, and staff feel like they're in a positive, welcoming environment.
Unfortunately, not many people are familiar with how photo prints work or how to create one. Luckily for you, this article will inform you about all the different things you need to consider when ordering and setting up a photo print!
What kind of photo prints are there?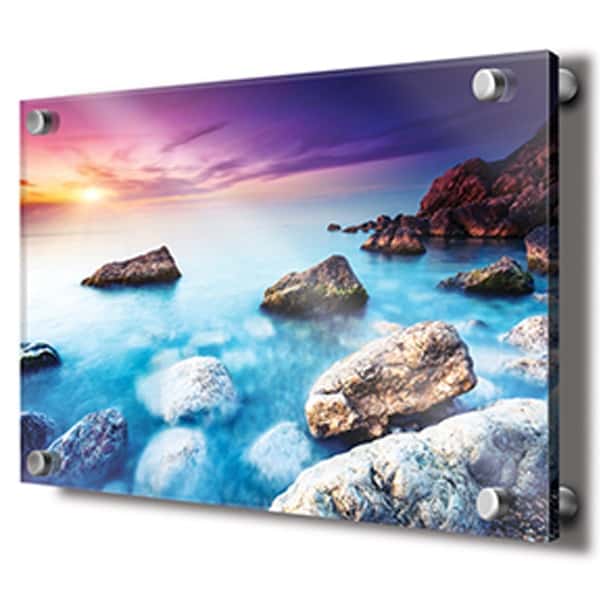 There are many different kinds of photo prints. A very common type is a photo printed on acrylic. Acrylic is a thick, strong sheet of glass that is easy to print an image on, so it can retain the high resolution from your original image while being protected by the acrylic. The acrylic glass adds a shine to the image, making the photo print look very luxurious and attractive.
Most acrylic photos are made with plexiglass have a thickness of less than one inch. A quarter of an inch thick plexiglass is very popular because it gives the perfect balance between durability of the acrylic photo and aesthetic from not protruding out of the wall too much.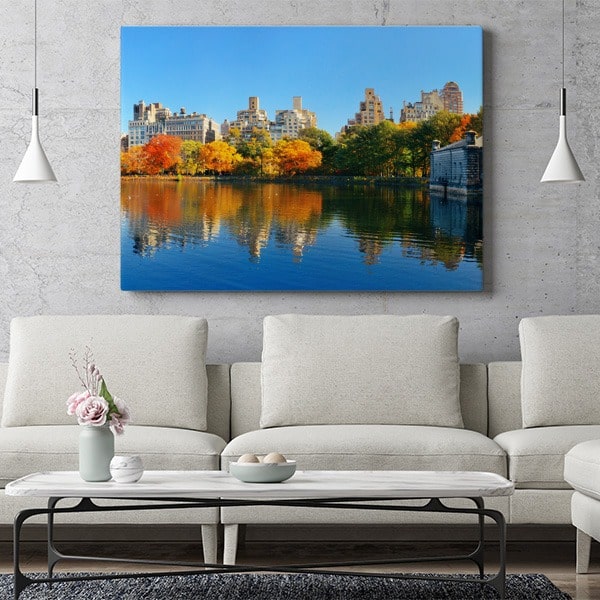 Another popular form of photo prints are canvases. Canvases are very popular for being a very lightweight fabric and its ability to make many pictures come to life. They also have semi gloss properties that can enhance the look of your image. It's no wonder so many artists choose canvases when they paint. Gogh ahead and try canvases for your photo prints!
Which edge option should I choose?
Acrylic photo prints have three main edge options: colored, folded, and mirrored. A colored edge is what it sounds like, as the width of the photo print is colored in one color. Most people who use this option go for a black or white colored edge.
A folded edge is when you would like to extend the artwork from the main image to the width of the photo print material, "folding" the image between the front surface and the edge of the photo print. This option is not recommended if you have a design for a photo print that has special details or elements on the sides.
A mirrored edge reflects the artwork of the image on the sides so there is artwork all around the width of the artwork.
What size should my image file be for my photo print?
Your image should be saved as a JPG and you would typically want more megapixels on your image to increase the quality of how it will look after it's printed, especially for larger scale printing. The dimensions of the print size of most images is usually the amount of pixelation on the image divided by 300. Or, you can multiply the size you want for your image and multiply it by 300 to determine its pixelation. For example, a 640 x 640 resolution can be printed in high quality in a 2.1" x 2.1" picture, assuming the printer is at 300ppi (pixels per inch).
If you're using Adobe Photoshop, you can resize your image in the "Image" tab, where it says "image size." Ideally, you should keep the resolution on the photo to at least 150.
One of the most popular widths for photo prints is 20" x 30", so if you're not sure how big your print should be, you can try that size, or something close to it! Of course, it would depend on your design and your tastes. Perhaps you want a bigger picture to hang up or post. Some creative people like to make a sequence of photo prints to hang up. A great sequence can be a few special moments from a wedding, leading up to a kiss. Or, an athletic shop can make a sequence of photos leading up to a basketball player making a slam dunk. It's time to get creative!
How should I install my photo print?
Here's the tricky part. There's no point in ordering a photo print if you can't install it for everyone to see! Because there are different types of photo prints, you're going to need to know how to hang your specific print.
An acrylic photo print should be installed using a standoff bolt connecting to a wall. This can be done with the bolt protruding out of the acrylic glass, or be completely hidden for a "floating" effect (though having it protruding would probably be the safer bet so it won't fall off the wall). Acrylic photos can also use a cleat hanger to mount the photo to the wall.
First, a nylon anchor is drilled into the wall to allow a screw to go into the anchor. The screw goes through a spacer (typically one inch long). Then, the standoff is connected to the cap and bolt using washers to protect them. That's it for acrylic photo installation!
A canvas will require a stretcher to mount to a wall. They look similar to frames, and make sure the canvas won't be all rolled up over time. Place the canvas onto the wall face-down, then press the stretcher against the center of the canvas so it's proportionate to your canvas. Next, fold a corner of the canvas over to the back of the stretcher. Staple the corner of the canvas to the back of the stretcher, and do this for all four corners. Tuck in the extra canvas into the openings created from the folds, then staple them too. Finally, put eye-screws into the back of the stretcher and connect them with a wire and a hook on the wall.
We know, it's easier said than done. If you've never installed a photo print before in your life, it will be a learning experience for you. If you would rather have someone else do it for you, most photo print providers offer installation services. Don't get your hands dirty if you don't have to!
Where should I hang my photo print?
Even if your business isn't exactly a museum or an art exhibit, it's important to note where to hang the photo print. Take note of where all your other wall decor is. Do you have other pictures on the wall you want to hang it on? If you do, think about if you want the picture to be parallel to the other pictures already on your wall. Or you can create a pattern that you wish with them, such as a zig-zag pattern.
It's best to place the photo prints on a solid color wall if the design has many elements or images in it. This can also be used for minimalist designs to match the rest of the wall, if it's a solid color. If you have a simpler design, try a plain wall, or a wall with many decorations or pictures on it. It's all about contrast to make the photo prints easier to see. It's your photo print, why put effort in just to see it?
For personal uses, canvases can look great above furniture. This includes beds, couches, tables, and more. You want a place where you're comfortable when you're looking at it, and a place where you'll look at it often, making those places great spots to hang it!
Other Ideas to Decorate Your Office
Empty space on a wall can sometimes be boring and inconsistent with the impression you want to give to your customers. You should make your workplace look like a dream job to work in, not a chore to be in! Why only settle for a photo print? Now that you have a better understanding about the photo print process, you should also use other decorations to complement the photo print.
Would you want to work from home? A better question is, who wouldn't? Even if you don't have the privilege of working at the comfort of your own home, it doesn't mean an office can't give you that same comfort. One way to elevate your office design besides photo prints is to use a wall decal.
A wall decal is similar to a sticker that sticks to your wall, but without the mess! Use a wall decal of some trees if you're going for a nature vibe, or of some buildings if you want to show customers you mean business. If you want a more homely feel, then you can put a heartwarming quote for the decal.

Last modified: January 31, 2020