Summer's hanging on by a thread. It's almost time to go back to school, and you know that dreaded first week of school is going to be hectic. Classes will be back in session, and the halls will once again be flooded with students. Club activities will begin, freshmen will want to feel onboarded into the new school, and other students will want to swap classes. It's a whole mess and rush of things you have no control over. You have to ask: is your school equipped to handle the new school year? Are you sure your teachers, club councils, event coordinators, and other people operating the school have the supplies or the marketing materials they need? And more importantly, are you satisfied with the number of students and teachers at your institution?
Marketing materials are exactly what it sounds like: items that promote something else. They'll have an organization's name, logo, and contact information on the product so people have an idea about the organization and how to reach them. However, marketing material doesn't always need to be about marketing a brand or company. They can be functional too, and very versatile in their applications. If you want to have a combination of marketing for your school and being able to have the tools necessary to proceed with day to day operations, you need to pick out the right marketing materials that can also double up as school supplies.
Who Needs Them
Of course, everyone can use marketing materials, but who needs them? There are a lot of entities operating at your school, and they'll all need different things. Let's take a look at who needs what kind of supplies so you can have a better understanding of what you're missing.
Freshmen and Transfer Students
A lot comes down to the way freshmen feel. If they're unsatisfied with the way their school welcomed them in, they might ponder about whether they should have gone to another school that they were accepted to. First impressions are so important in education; these aren't just new students enrolling in a new school. These are kids coming out from high schools looking to explore life and their opportunities. There are people with GEDs looking to better themselves. If you don't take that into consideration, then you can expect more transfer outs than transfer ins.
Transfer students come into your school expecting positive changes from their last school. If you can't please them, then they're already one foot out the door. With so many people transferring from school to school, it can turn into a habit for some students to switch educational institutions when they're not content with their student life at that school.
How to Deal with Them
People love free stuff! Students are known for their low disposable income. Some students might not have time to shop for every supply that they need from a busy work-school balance. Hold an event or seminar to celebrate the new semester or school year offering free items to the students!
Don't get caught up in the costs of free handouts. Not only will students see value in the welcome gifts from the school, but they also feel valued by the school. It's very important to also make upperclassmen feel valued, too. Giving out free marketing materials will make every student feel more appreciated and more comfortable with their choice of school. If they enjoy attending your school, their opinion can be the leverage your school needs to boost its reputation and enrollment rates.
Here's a list of gifts you can give to students that they will love and use:
Notepads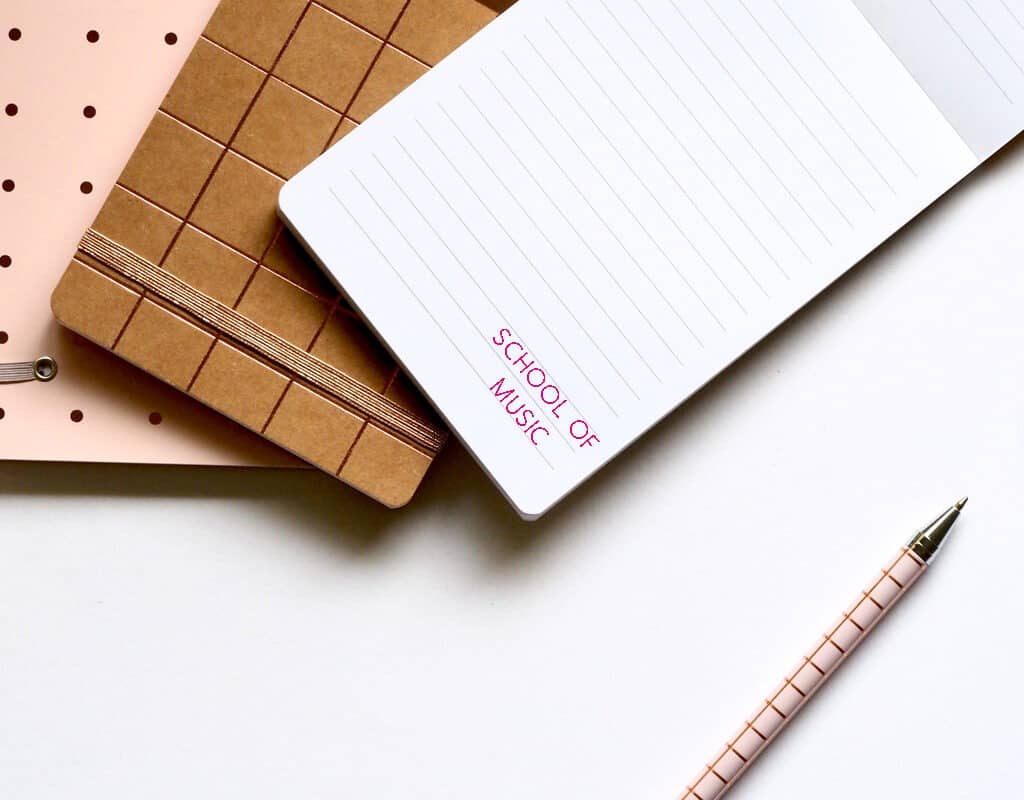 You can customize notepads with your school's name and logo on each page. Every time a student opens their notepad, they'll have your school's name burned into their memory, even after they graduate. Notepads are great for taking quick notes during a class or a presentation. They're useful for everyone, not just students!
Postcards
Postcards can be personal and businesses use them to create strong relationships with their customers or clients. Customer relationship management is very important for a business. Similarly, student relationship management should be just as important for a school. You want your students to feel like they're more than just their school identification numbers. Friends send each other postcards. Businesses send customers postcards. If you want a better relationship with your students, personalized marketing material like a postcard will be perfect.
Postcards can be used to promote a new event in your school, like a fall festival or a dance formal. You can put a map of your campus on the postcard to help freshmen and transfer students find their way to the right building or facility. The great thing about postcards are their compact size, so if you want to order postcards for a middle school or high school, students can put useful and helpful postcards into their lockers or desks.
Bookmarks
Bookmarks are an affordable marketing material that is meant for portability. Your school's book clubs and libraries are great places to distribute these, and students will love them! Even if they aren't avid readers of physical books, bookmarks can be used for textbooks and lab manuals to mark important pages or get to the most up to date chapter for the lecture fast. Students will use them outside of your school, like in public libraries and coffee shops, which will get more people to recognize your school.
Custom printed bookmarks can include your school's name with images of the campus or its libraries. Or, they can have interesting icons and pictures that will be sure to make people line up for them!
Students in Extracurricular Activities
Students in extracurricular activities like clubs or teams need marketing materials too. A common problem that persists in all extracurricular activities is a great imbalance in the supply and demand of students participating in them. Many students may often feel unmotivated or discouraged from trying a club out or going to tryouts and auditions for some clubs. Every school should work hard to help students find their identity and explore career options besides just the courses offered in school.
What to Do
You'll need the right supplies to promote your students' clubs and teams. You'll also want the students to feel engaged and empowered to join extracurricular activities. Here are some of the marketing materials you can use to get more students into extracurricular activities.
Posters
Posters are a fantastic way to reach more students for a club. However, they shouldn't be boring, distracting posters that students wouldn't want to look at. They should be fun and creative to get more people to look at them. Also, the larger the better! Placing larger posters means you can have one or two posters per hallway instead of cluttering the walls with many posters at once. It's all about choosing quality over quantity.
Trading Cards
Make trading cards for players on your teams, coaches, actors and actresses of casts, or more! It's a very unique idea to make students get to know who's in the club so they can feel welcomed into an extracurricular activity. Plus, who wouldn't want to have trading cards based on them?
Guidance Counselors and Advisors
Guidance counselors, advisors, career mentors, financial aid offices etc. are often a student's refuge from school, in school. Students come to them for assistance on which classes to take, which major to declare, and for other big decisions. Your school should use custom forms for the paperwork required for these decisions. This is where letterheads come in. Letterheads are papers with your school's name and logo on the top or bottom of the page. This is great for official forms like for changing majors, financial aid, and more!
Get it Printed!
All these print ideas will definitely make more people recognize and open up to your school! The result will be more enrollment, higher graduation rates from people choosing to stay in your school rather than transferring out, and a world of other benefits!
At Printleaf, we work with professionals in New York City. Our mission is to provide the highest quality custom marketing materials. Looking for high quality marketing materials in NYC fast? Come visit us in Midtown. For more information about the services we offer, please visit our website or contact us at (212) 328-1174.
Last modified: January 30, 2020